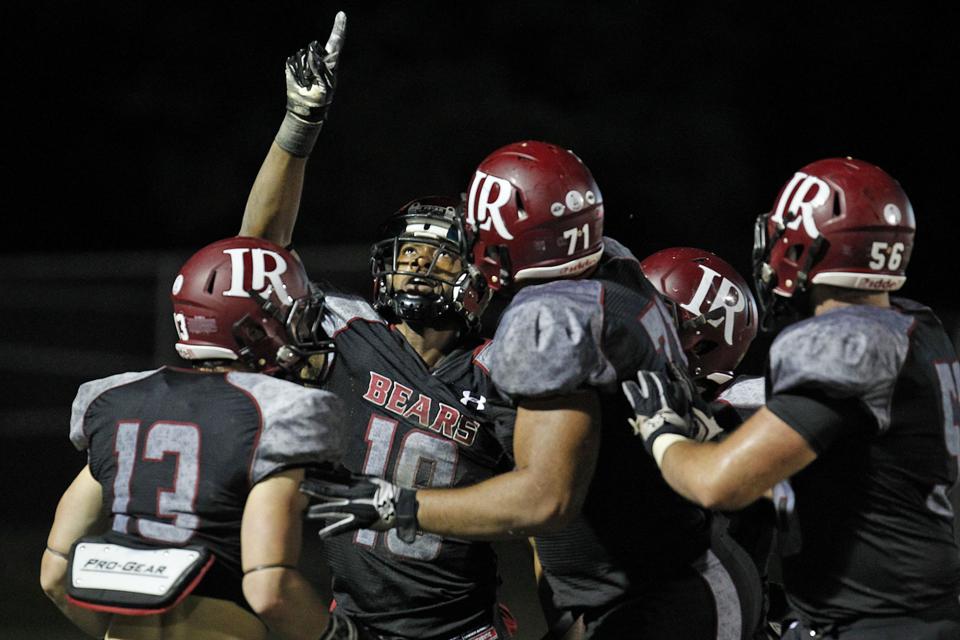 The Lenoir-Rhyne football team is back in a familiar place five games into the season, first place in the South Atlantic Conference. The 4-time defending conference champions are sitting at 4-1 overall and 2-0 in the conference coming off their first home game of the year, a dominating 52-17 win over Carson Newman.
The Bears are currently one of two undefeated teams in the conference. They will step out of conference to play University of Faith this week, and will then welcome their SAC co-leader and undefeated, Wingate to Moretz Stadium on October 17.
The Bears season opened with a dominating win over West Chester on the road 41-28 and after hitting a bump in the road, a loss at North Greenville, they rebounded with a triple overtime thrilling win at Tusculum 55-52. The Bears seem to have gotten their mojo back winning their last two games by a combined 59 points.
"We haven't played our best football yet," head coach Ian Shields told the Hickory Daily Record. "We took a step forward a week ago against Limestone but I think there's still more (room to improve) in front of us."
As Lenoir-Rhyne enters the meat of their schedule against SAC opponents they will continue to rely on the run game that has been dominant this year averaging 433.6 yards per game. The rushing attack has been spear headed by slot back Kristaan Ivory and quarterback Evan Sims who are third and fourth respectively in the SAC in rushing and have accounted for nine touchdowns apiece. Both players are averaging over 110 rush yards per game and Ivory leads the conference in all-purpose yards with 838.
Running backs Michael Patrick and Kevin Eckel have chipped in along the way with Patrick totaling 437 yards and four touchdowns. Eckel has rushed the ball for nearly 250 yards through five games. The return of All-American and two-time Jacobs Blocking Trophy award winner Joe Ray against Carson-Newman, after missing two games with injury, will only help the Bears already potent rushing game.
Defensively the Bears have tightened things up since giving up 50 points to Tusculum, the first time a Bears defense has allowed a team to pass the half century mark since 2010. The linebackers and secondary have led the defense thus far in the season. Linebackers Tanner Robinson and Jordan Forney are both in the top five in tackles in the conference with over 40 on the season. Forney is also the team leader in sacks. Linebacker Hunter Toomy is the team's leader in tackles for loss. Preseason first team all-conference selection Rodney Singleton has continued to make his impact felt from the rover position with 16 tackles and two pass breakups.
In the secondary cornerback Kyle Dugger has been a playmaker throughout the season. Dugger has recorded three interceptions, two forced fumbles and two fumble recoveries including the game sealing forced fumble and subsequent recovery in the third overtime against Tusculum. Safeties Marcus Kincaid and Chris Shaffer have been sure tacklers all season and have combined for three interceptions.
Lenoir-Rhyne will look to get a little more from their defensive line as the season progresses. Defensive end Kalen Elkins has been a load to handle up front with 4.5 tackles for loss to go along with one sack. The Bears have given up 423 yards per game defensively, a statistic that will need to have a steep decline if the Bears want to contend for not only their fifth consecutive conference title, but a national championship.
The Bears have not been dealt a loss in conference since their first conference game of 2012 and have ripped off 22 straight conference wins. Lenoir-Rhyne knows how to win and they have again put themselves in a position to control their own destiny. All they have to do is, win.