The 2016 NBA draft is already a highly anticipated event and it is still December, but the potential and depth of this draft might be the best we've seen this decade. This NBA mock draft is my top 30 NBA elite players that play in the NCAA and four international players as well.
#1 Philadelphia 76ers: Ben Simmons, LSU, SF/PF Freshman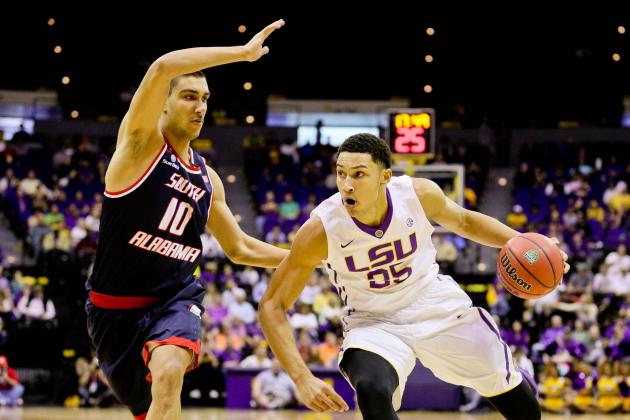 Against North Florida on December 2nd Simmons scored 43 points, grabbed 17 rebounds, and had six assists. SImmons size, basketball IQ, and athleticism makes him an elite NBA talent. He plays with composure and has great ball handling skills for his position. While Simmons pro's out weigh the con's, Simmons has to improve on his jump shot that he seems to lack confidence in. Ben Simmons could score 20 points in the NBA right now and by June there is no telling how much he'll progress.
#2 Los Angeles Lakers: Skal Labassiere, Kentucky, PF/C Freshman
Skal Labissiere can score from about anywhere on the court, while being a tenacious force on the boards and having great work ethic he can become an unstoppable force on the offensive side of the ball. He is able to score on the block and he has incredible footwork balanced with an enhanced basketball IQ he is an automatic scorer. He lacks strength, so easy baskets for a player with his scoring ability will improve the stronger he gets. He has potential to become the best man in basketball with strength and finesse.
#3 New Orleans: Brandon Ingram, Duke, SF, Freshman
Brandon Ingram is only 6'9″" but with his 7'3″ wingspan he is able to finish against taller defenders at the rim. Watching Ingram he reminds you so much of Kevin Durant due to his shooting ability and how efficient he plays. Ingram has great size for the Small Forward position and with his high basketball IQ he makes passes rarely seen at his position. Against Indiana on December 2nd, Ingram hit four three pointers in the first half finishing with 16 in the first half, and finished the game with 24 points. Brandon Ingram has a similar slender body like Durant, at 195 pounds he is seen as frail. Him lacking lateral quickness and strength on the defensive side can be a downside until Ingram develops strength. Brandon Ingram has a chance to become one of the best scorers in the league with the right development and in the right system. Ingram has a chance to move up in front of Labissiere, but NBA stock in players rise and fall.
#4 Boston Celtics: Dragan Bender, Croatia, PF, 18
At a standing reach of 9'3″ if Dagan Bender puts on more weight and strength he could play Center down the road. With his size, Bender's elite transition game and his length helps him consistently be a force on the rebounding glass. Bender's is the second best passing Power Forward in the draft behind the projected number one overall pick Ben Simmons. Bender has the potential to become an incredible defender in the NBA, In the U18 Europe race per 40 pace in 2014, Dragan average 2.9 BPG. Bender lacks strength and even though he is able to score from anywhere on the court, he has to become stronger on the block to become a better defender and a complete scorer. Sometimes Bender likes to shoot flat footed and/or change his shooting motion, this contributes to inconsistency in his shot at times. Bender's upside is incredible, he is a solid scorer with a point forward intangibles and should be a high pick in this upcoming draft.
#5 Sacramento Kings: Jamal Murray, Kentucky, PG/SG, Freshman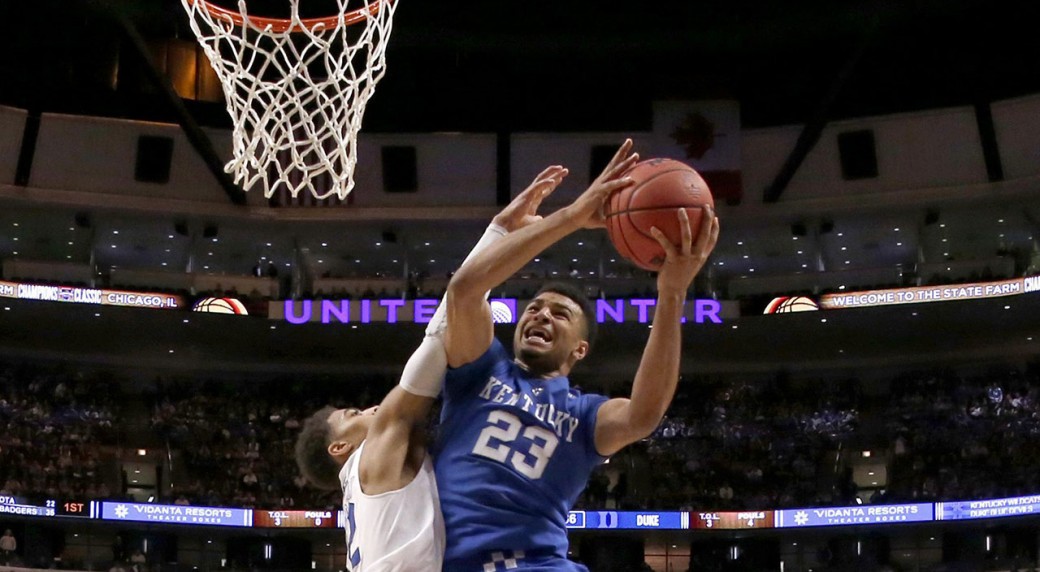 Jamal Murray was claimed to be the best player in the country after Albany's coach Will Brown loss to the Big Blue about a month ago and it is for good reason. Murray is another dominant Canadian born player who has NBA top five draft potential. Murray has the size and strength of an NBA combo guard and could contribute right away. He finishes so well at the rim and is a solid floor general. Tyler Ullis is a complete guard and the addition of Murray makes them the best backcourt in the country, He has to work on his in game basketball IQ and his shot selection. Jamal Murray will be a dominant force in the NBA once he develops his decision making and improves his dead eye shot.
#6 Denver Nuggets: Kris Dunn, PG, Providence, Senior
Kris Dunn is a Point guard with incredible athleticism and upside. His ability to finish at the rim and the combination of him creating shots for his teammates is a special skill that Kevin Durant has even taken notice of. His great strength and leaping ability has helped him excel at defense. He averaged 2.8 steals per game for Providence last year, which put him at fourth place in the country. Dunn passing had him sitting at first in the nation for a good amount of his junior year, he still struggles to not turnover the ball. Averaging 4.2 turnovers a game Dunn has to show NBA scouts that he can sharpen up on his decision making. He has an injury history with multiple leg injuries, but his senior year should be his strongest yet and he will look to show NBA scouts what he is made of against top tier NBA talent through this season.
#7 Portland Trailblazers: Denzel Valentine, Michigan State, SG/SF, Senior
Another senior from Michigan State that seems to do everything well, Magic Johnson loves the way Valentine plays the game and believes his game will successfully carries over into the new NBA game. Denzel Valentine is a scoring machine with great upper-body strength and finishes well at the basket. He is tenacious on the boards and can pass the ball well for his size. He shoots 85% from the free throw line and can pass the ball with his incredible vision and basketball IQ. He'll continue to develop his defensive game and he will be a great NBA pro at the rate he is going.
#8 Minnesota Timberwolves: Jaylen Brown, California, SG/SF, Freshman
At 6'6″ 222 pounds Jaylen Brown already has a solid NBA body. Brown is an elite athlete that finishes with tenacity at the rim. With his athletic frame he finishes through contact more often then not, combined with his high basketball IQ, size, and scoring ability Brown is NBA ready right now. As Brown game progresses in the NBA, he'll learn that his jump shot will be a key to his success in the NBA. In College it is a lot easier to finish on the inside. He seems to not have established a consistent shooting form. He has to improve his left hand tremendously as well. He can become passive on the court at times, when his scoring is elite he needs to continue to score throughout the game.
#9 Phoenix Suns: Domontas Sabonis, PF, Gonzaga, Sophmore
Sabonis crashes the board just as well as he scores, on December 5th he scored 18 points and had 16 rebounds against #19 Arizona. He shoots well, his fluidity on and off the block is something that NBA scouts salivate at. Sabonis has to work on his defense on the perimeter as well as on the block. His vision has to improve, but he is still a solid top 10 prospect overall.
#10 Milwaukee Bucks: Ivan Rabb, California, PF, Freshman
Ivan Rabb has the talent to be known as the best defender in college basketball before March is here. Rabb has a large wingspan at 7'1″, he is also a very disciplined defender with effective rim protection. He is becoming a better rebounder as the year has progressed and a supurb athlete who finishes well at the rim. Even though Rabb has developed a consistent left hook shot, he lacks credible post moves outside of the hook. Rabb has to improve on his right hand and he has to improve on his lateral quickness. Ivan Rabb can become an incredible two-way player with the right progression and as the season continues he will only improve.
#11 Denver Nuggets: Cheick Dialdo, Kansas, PF/C, Freshman
After not being able to play the first seven games of the year due to NCAA sanctions, Diallo is on the court for national championship contenders Kansas. Diallo loves to defend, with a 7'3″ wingspan at 17. Diallo was invited to the NBPA Top 100 camo in 2013 and went on to become the first MVP ffrom Africa. Diallo has the talent to become a solid power forward in the NBA and should impact the game the first day he steps in. As the season progresses his draft stock should rise as he shows his game changing ability on both sides of the court.
#12 Washington Wizards: Damian Jones, C, Vanderbilt, Junior
You read the NBA Comparison and you are saying "not another one of these guys," Jones may have glaring similarities to Jordan but their upsides vary on opposite ends of the ball. Damian Jones is a rim protector, averaging two blocks a game. Unlike Jordan, Jones has impressive perimeter defense for a seven footer. His offensive upside is a lot higher than Jordan's as well, due to Jones being able to show that he has the potential to be an offensive force. Jones on the block has two go-to moves, his inconsistent turn around jumper off the glass or a hook with his right hand. Damian Jones is averaging 19.9 pts per 40 pace, second in the Draft Express top 15 big man. Damian Jones upside is outstanding, but time will tell if he will become more than just an athletic flashy big man.
#13 Detroit Pistons: Malik Newman, Mississippi State, SG, Freshman Malik Newman is the dark horse in this NBA draft, the Hoop Mixtape star is top three best scorer in this draft and plays with a fearless attitude. Newman has shown he can play on an elite level internationally as well(MVP U17) where he won the gold medal in Dubai. There will rarely be a time Newman is not square up with the basket to take the best shot possible. Newman posses great basketball IQ and knowledge of the game. Newman is a decent athlete, but Newman still has to learn how to be a better teammate mentally and physically. With the popularity of the combo-guard increasing in the NBA, scouts are interested in seeing how Malik transfers into his own version of the combo guard this year at Mississippi State University.
#14 Boston Celtics: Chris Levert, SG, Michigan, Senior
Tuesday night on the first possession of Michigan's game against Western Kentucky, Lavert took down the rebound, went the length of the floor and got fouled on a driving layup and was fouled. This play pushed Lavert to over a thousand points in his Michigan career. Lavert was not only satisfied wiht scoring over a thousand points, he also recorded a triple-double becoming the fourth Michigan basketball player to accomplish this goal. Between Kris Dunn and Lavert they have the best first step off the dribble. He has great size to finish at the rim, although he does not always drive because he is an impressive three point shooter. He shoots over 50% beyond the arc, but shoots under 30% when taking mid-range shots. His defense could also use work, he depends to much on his size to help him defend. His defense is inconsistent and he has to show that he can defend on a nightly basis if he ever expects to become a lottery pick. Lavert has the potential, he just has to prove it to NBA scouts that he is worth it.
#15 Houston Rockets: Buddy Hield, Oklahoma ,SG, Senior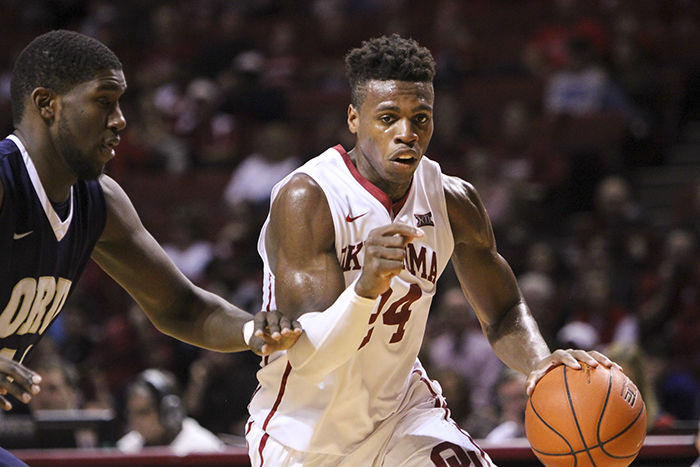 Oklahoma is ranked as the third best team in the country currently and this is the player responsible for such a great start. Buddy Hield has an incredible skill set, great athlete with a solid frame that helps him convert hard plays into easy plays. He has elite athleticism, that helps him on both sides of the ball. Hield has length and he is able to use that to his advantage when defending opposing two-guards. Hield is 6'4″ which can be short for the two position, expect him to become a combo-guard in the NBA. Hield only hope of becoming a combo-guard is if he expands his offensive game, he scores well(48% three point shooter) but he has to improve a lot more. Hield sometimes can play the game a little to predictable and this can become a crutch in his progression if he does not improve. You have to watch Buddy Hield play and see the flashes of velocity he finishes with at the rim, he has potential to move up in the draft if he builds his offensive arsenal.
#16 Utah Jazz: Jakob Poeltl, Utah, C, Sophmore
NBA Comparison: Andrew Bogut 20.8 ppg 9.8 rpg 1.8 apg
The Austrian big man standing at 7'1″ is one of the most talented big men in the draft. He runs the floor well for his size, with a great motor he out hustles a lot of opposing big men. He has great hands and can finish with both at an efficient rate, he seems to lack the defense needed at the NBA level. He is not a dependable rim protector and most NBA scouts are not sure if he will ever develop into one. Poeltl is one of the worst free throw shooters in the draft(48%) and lacks post moves. Jakob Poeltl has progressed so much in two years and has the potential to be an NBA lottery draft pick, but his defense must improve and his offense has to become more dominant offensively as he adds more post moves to his repertoire.
#17  Denver Nuggets:  Demetrius Jackson, PG, Notre Dame, Senior
Demetrius Jackson came back for another year for the fighting Irish so he could be the guy, after Jerian Grant's departure entering into NBA playing currently for the New York Knicks. Jackson's blend of athleticism, strength, and incredible toughness can make him an easy player to buy into. He is not only a very great scorer only at the rim, he shoots a very efficient 53.2% when attempting mid-range shots according to hoop-math. While having incredible speed and a couple of nifty ball handling moves, Jackson has to learn that he needs to improve his dribbling if he expects to become a good NBA professional. He finishes well due to his strength, but at 6'1″ he struggles to finish over bigger defenders sometimes.Demetrius Jackson can only jump on the NBA draft boards by showing everybody that he is a better player on the court then people believe.
#18 Orlando Magic: Malik Pope, PF, San Diego State, Sophmore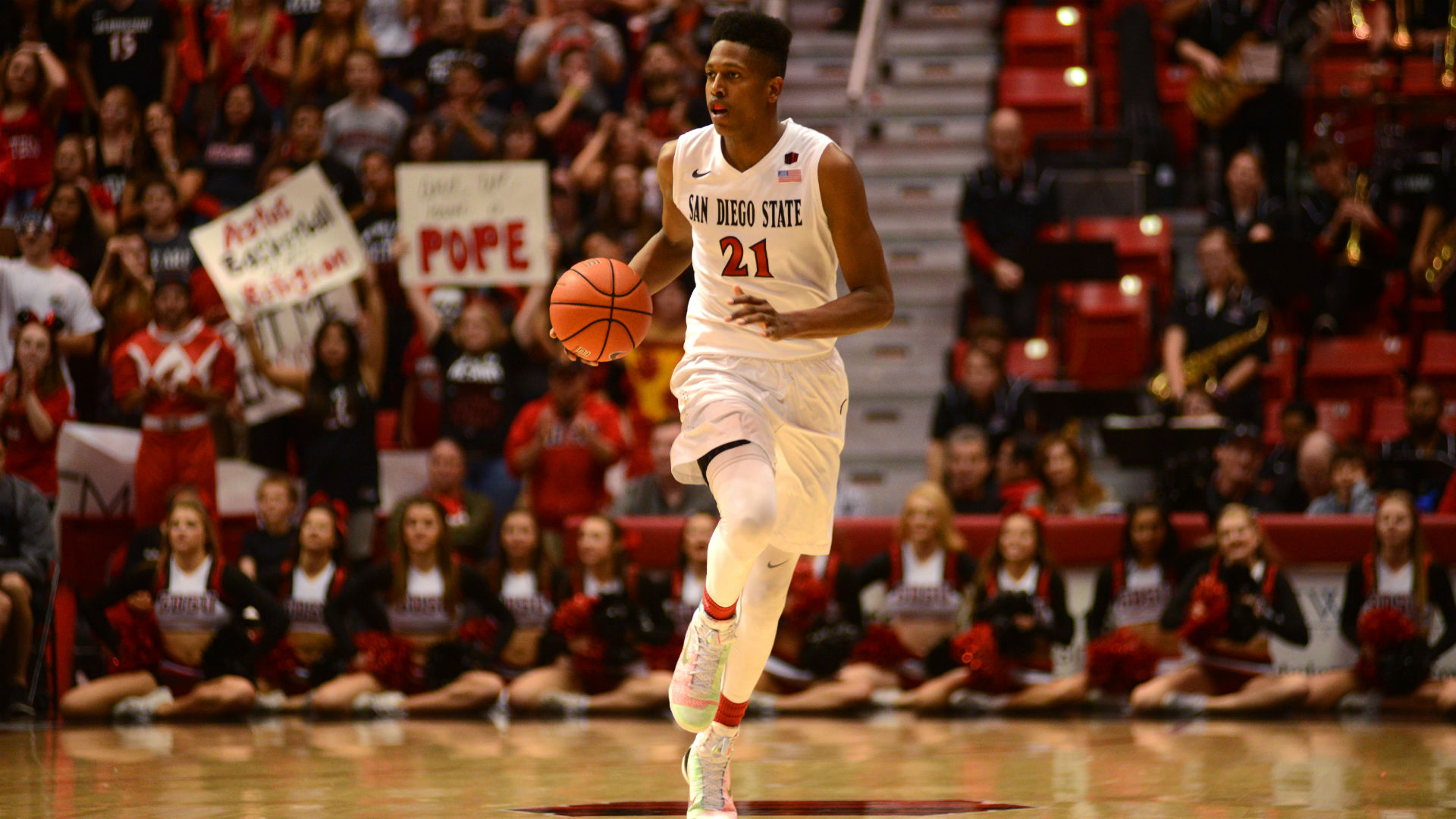 The top FCS prospect in the draft, a lot of people rooted for him to come out last year, but another year in the NCAA will be incredible for Pope's progression. Very few players posses the combination of size, length, and skill that Pope has. He also is a superb athlete that can LEAP out the gym, being very explosive. He has a slender body and his thin frame is proof he has to get stronger to be competitive on the NBA level. He has a bit of injury history that makes NBA scouts a little hesitant to move him into the first round. If he is not picked in the first round he can become a steal for an NBA team willing to take a shot on him.
#19 Los Angeles Clippers: Isaiah Briscoe, PG, Kentucky, Freshman
Isaiah Briscoe could become an NBA all-star if he stays in school for two more years, but he will most likely declare this year and he has the talent to do so. Briscoe posses natural leadership skills and he finishes well at the rim with his strength and wingspan. Briscoe will to get after the ball in zone defenses is impressive, while he can play either guard position due to his physicality and his athleticism. Briscoe has to become a better shooter to become an NBA talent he lacks a touch on his floaters and from mid-range. Briscoe mental lapses have been noticed by plenty of NBA scouts, sometimes Briscoe commits bad fouls or loses track of his man off the ball. Isaiah Briscoe has to greatly improve his offensive arsenal and his defensive play to make sure he does not find himself in the D-league next year if he plans to commit to the NBA draft.
#20 Boston Celtics: Sviatoslav Mykhailiuk, Kansas, SG, Sophmore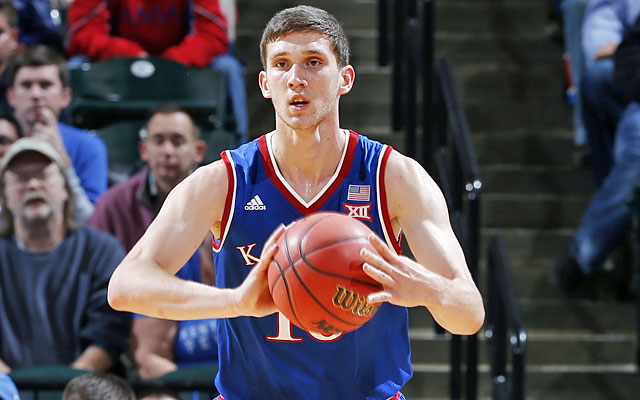 The Ukrainian guard has a shot that is as impressive as anybody in the draft. NBA scouts said Mykhailiuk was NBA ready last year, but was not eligible due to him being 17 years old. He has become a great defender by playing with maximum effort on both sides of the ball. Mykhailiuk is a high IQ player who needs to build up his strength. His strength hinders him on both sides of the ball, he sometimes cannot defend elite guards due to his length as well. He has to settle for well defended or difficult shots. The upside for the Ukrainian guard is massive only if he gains strength is all he needs to be successful.
#21 Atlanta Hawks: Dwayne Bacon, SG, Florida State, Freshman
Bacon's elite athleticism and ball handling kills is the main reason he can easily improve his draft stock this season. Bacon will try and go up on anybody and can finish against the best of them and has the ball handling skills of a point guard and he can easily convert into a combo guard. Although Bacon is an average shooter, he'll have to improve being consistent offensively. He has to develop mentally as a basketball player as he can become a hot head on the court. Dwayne Bacon's NBA potential is there, but NBA scouts want to see him develop mentally before they consider a top 10-15 pick. He can easily move up by playing and showing that his personality issues were a thing of the past.
#22 Toronto Raptors: Justin Jackson, SF, North Carolina, Sophmopre
Justin Jackson has improved in the system Roy Williams plays within, he has a great motor and high basketball IQ. He stays moving on the court and has become an elite off the ball scorer. Jackson has shown he can be a consistent scorer, having three twenty point games in a row(25 at Northern Iowa, 21 at Northwestern, and 22 at Kansas State) before Marcus Paige returned. Jackson can sometimes lack aggressiveness throughout the game to score. He can score 25 points on a nightly basis if he would try to not involve his teammates and took more shots or got to the rim with the offensive arsenal he possesses. He has to also improve his shooting stroke on a consistent basis, he needs to show NBA scouts his three pointer has improved as well(30% Freshman year). Justin Jackson basketball knowledge can make him an elite NBA player if he can become stronger and a more aggressive scorer.
#23 Charlotte Hornets: Zhou Qi, C, China, 19
Qi standing at 7'2″ he has elite mobility for his size while possessing great length. He dribbles the ball at an elite level, there are highlights of Qi going coast to coast when the outlet passes are unavailable. He already has a three point shot, but could develop a consistent three pointer that would stretch the floor and that interests every NBA team. With Qi's size he has to get stronger only weighing 210 pounds. His mental toughness can sometimes be in question, due to him never showing emotion on the court. He has to become more vocal on defense to be successful on the NBA level. A solid prospect late in the NBA draft that will have to impress at the NBA combine to show scouts he is an elite talent that is worth developing.
#24 Indiana Pacers: Stephen Zimmerman, C, UNLV, Freshman
Who does not love a dominant big man who can pass, score, and stretch the floor. Zimmerman is an incredible big man that has interesting skills for a big man. He crashes the boards and makes sure he is always in good position for the rebound. He has to work on his defense and his offensive consistency to become a lottery pick in the upcoming NAB draft.
#25 Chicago Bulls: Guerdchon Yabusele, PF, France, 19
Yabusele might be an undersized Power Forward at 6'7″, but he has been able to be effective due to his tremendous combination of natural strength and explosiveness. A very skilled player for his size, he is impressive when using fakes to get open against opposing big men. He has an incredible shooting form and is able to stretch the floor for any team. Due to him lacking size he struggles to be a fluent defender and he has to improve at the free throw line as well. An intriguing talent in this upcoming draft that will deserve a second look in June.
#26 Philadelphia Sixers: Grayson Allen, SG, Duke, Sophmore
Grayson Allen is back for his sophomore year and is ready to break out with the help of Brandon Ingram. Allen is a gifted and he can get hot so quickly, he'll show flashes of his elite athleticism as he plays above the rim so often with great size for the 2-guard position at 6'5″. Allen has shown he has to improve defensively and his offensive consistency against other teams that have potential NBA players and that was seen when he did not play to the best of his capability earlier this season against Kentucky. Grayson Allen has to become an all around better player if he wants to move up in the draft this year. Grayson Allen's progression can only come from experience, that is why he is ranked so closely to the bottom of the first draft.
,  #27 Philadelphia Sixers: Tim Quarterman, SG, LSU, Junior
Tim Quarterman is a junior shooting guard who has shown so much improvement from his freshman to his junior year in Baton Rouge. Quarterman is a great compliment to the number one overall draft prospect Ben Simmons. Triple doubles that were seen by Quarterman last year is not a sight you see often anymore. He's a very aggressive defender and decent athlete with good length for the two guard position. Tim Quarterman has NBA worthy defense, but his offensive arsenal is in question. He has to apply 100% effort due to him only being a decent athlete not an elite one. He has an opportunity to move up, though I'm not sure how much when Ben Simmons has become very ball dominated when Brandon Sampsen is not bringing the ball up the court as well.
#28 Phoenix Suns: Brice Johnson,PF, UNC, Senior.
Brice Johnson is a senior at UNC that has shown improvement every year due to his incredible motor and elite athleticism. He is an above average defender and a "lob city" finisher as one half of one of the best front courts in the NCAA with junior center Kennedy Meeks. He has to become a lot stronger inside on the block to be productive in the NBA. Johnson goes to free throw line often and NBA scouts in years past refereed to Johnson's Achilles heel was his free throw shooting. He has shot 87% from the free throw line this year. Brice Johnson has shown that he will improve and he is a hard worker, that can go far for players in the NBA like Joakim Noah for example.
#29 San Antonio Spurs: Troy WIlliams, SF, Indiana, Junior
Troy Williams is a small forward at Indiana University that has elite athleticism.and size at 6'8″. Williams has potential to be an elite player in the NBA, but not only does his awareness hender his play, he also has to improve his perimeter shooting. Troy WIlliams has made 63.7%(149 of 234) of his shots at the rim his first two season in Indiana, but he only made 13 three pointers since his sophomore year. He only has attempted 42 three pointer in his NCAA career and he has to improve his shot so teams do not defend him as a one dimensional player.
#30 Golden State Warriors: Thomas Bryant, C, Indiana, Freshman
Thomas Bryant is one of the most unorthodox big men in this upcoming draft but he is very productive and his offense is effective. The 6'11" center has an incredible wingspan at 7″5″, he has great defensive potential in the NBA. The intensity and desire that Bryant plays with is rarely seen for a big man in his talent class. Not the best athlete, though he is not afraid to bang he doesn't have elite explosiveness to be an elite rim protector yet. Has to work on his low post game to become an effective NBA big man.
This NBA Class of 2016 is so intriguing and enticing due to the versatility and the depth at every position, three more mock classes will come before the draft in June of 2016. Enjoy every college basketball game, there in elite NBA talent in every conference and they will only get better as the season progresses.
-Cam Carter