In 2005 The Philadelphia Eagles and the Atlanta Falcons faced off in the NFC championship game, this game showed how much the NFL had progressed since the 1950's. Micheal Vick and Donovan McNabb took the helms for their team and started at Quarterback for their respective teams to become the third African American starting quarterback in Super Bowl history. It was amazing the lack of attention given to this historic moment. The "founding fathers" that solidified that there was a place for African American Quarterback were looking down and smiling. This Saturday two of the most talented Quarterbacks on the College level in Deshaun Watson and Lamar Jackson will compete head to head on ABC at 8:30 October first.
Founding Fathers
The "Jackie Robinson of Football" Willie Thrower was a history maker. Thrower had a strong High School career out of New Kingston, Pennsylvania and became the first African American Quarterback to play in the Big Ten(Michigan State). He won a national championship in 1952. Thrower went undrafted, but signed a contract with the Chicago Bears as a back-up Quarterback. Thrower made history in 1953, when he relieved Bears Quarterback George Blanda during a game against the San Francisco 49'ers. He was able to complete three out of seven passes for 27 yards. Though it was not long, Thrower was still able to make history and open doors for the next generation. He played once more later that year, but was not resigned and eventually played in Canada professionally for five years. He only played five season in Canada before retiring due to a shoulder injury.
Eldridge Dickey was a three time HBCU All-American at Tennessee State from 1965-1968. He was the first African American quarterback drafted in the first round of the NFL draft by the Oakland Raiders(25th pick). The Oakland Raiders drafted a Quarterback in the second round as well, Ken Stabler from Alabama. Reports suggest that Dickey outplayed Stabler in training camp, but he was moved to wide receiver.  Dickey was active for two years in 1968 and 1971 playing in 18 games in total. He never scored a touchdown and barely broke a hundred receiving yards in his career. Another talented player gifted with playing the Quarterback position not given the opportunity he deserved.
Doug Williams was the first African American Quarterback to win the Super Bowl. Becoming the MVP of Super Bowl 22. The California native attended the SWAC school Grambling University, where he won 3 SWAC championships. He had a career record of 36-7 as a four year starter. He won the Black Player of the year award twice and was fourth in Heisman voting in 1978. His nomination though being in the SWAC was well deserved as her led the NCAA in multiple categories. Including total yards from scrimmage(3249 yards), touchdown passes(38), and yards per play(8.2 yards) Later that year Williams was picked in the first round of the NFL draft as the 17th pick by the Tampa Bay Buccaneers. Joe Gibbs, the offensive coordinator for Tampa Bay at the time was the only NFL associate to scout Williams at Grambling. He was the only Black starting Quarterback at the time in the league. There were 12 backups in the NFL that were being paid more than Williams during his career($120,000 a year). Williams had a strong rookie campaign and in his second year he led the Bucs to the NFC championship game. In 1980 contract disputes ended Williams run as a Buccaneer as he left for the upstart United States Football League to play for the Arizona Outlaws. He went 6-12 for Arizona in 1981 while throwing for 3084 yards, 15 touchdowns, 21 interceptions. The USFL shutdown in 1986 and Williams joined the Washington Redskins with his former offensive coordinator Joe Gibbs. Doug Williams won the team over and the starting position in 1988 once he was subbed in three different games and led them to victory in all three. The day before Super Bowl 22 Williams had a six hour root canal surgery performed, he played John Elway's Broncos later on that day. Williams did not disappoint especially in the second quarter, when he threw four touchdowns in the second quarter to break the game wide open before halftime. He became the first African American Super Bowl MVP, he retired with a 5-9 record as the Redskins starter(8-9 counting playoffs). 38-42-1 final record, 100 passing touchdowns, and 15 rushing touchdowns through 88 NFL games.
Harold "Warren" Moon was a very talented and fast quarterback from Los Angeles who attended Washington University. Moon opted to go to Canada so he could play quarterback due to NFL scouts believing that him playing in a rollout rather than a drop back passing office would hinder him and he would be a mid round pick. Moon signed with Edmonton Eskimos remained confident in his abilities and he made good on their gamble. Moon led the Eskimos to five consecutive Grey Cup Victories.He returned to the US to play for the Houston Oilers in 1984. He racked up nearly 50,000 yards passing in his career. His first year he set a new club record with 3,338 yards passing his first year, a mark he would break four more times. 1986 the Oilers installed the run and shoot offense, this is a system that showed off Moon's big play ability and running skills. Moon led the league in 1990 with 4,689 passing yards and did the same the next year. Dan Marrino, Dan Fotus, and Moon are the only quarterbacks to ever have back to back 4,000 yard seasons. The nine time pro bowler was traded to Minnesota Vikings before the 1994 season, in his debut season he threw for 4,204 yards. He then passes for 4700 yards in his second season as well before going to Seattle in 1997. He finished his career as a back-up in Kansas City, by the end of his career he ranked third all time in NFL passing yardage and fourth in touchdown passes at the time of his retirement despite his first six season being in Canada. He also received the 1989 Walter Payton NFL Man of the year award and Offensive Player of the year in 1990.
The founding fathers did not only set a standard for what the "best Black African American Quarterback" could be, but they also obliterated the racist theory given to black quarterback that most NFL GM's and coaches believed. That an African American quarterback could not lead a NFL franchise successfully. Williams and Moon made NFL general managers realize that quarterbacks came in all colors, shapes, and sizes.
The Franchise Quarterback Era
In 1995 the late great Steve McNair of Alcorn State became the second African american quarterback drafted in the first round as the third pick by the Tennessee Titans. A player who has become lost in the group of talent African American quarterbacks, a lot of people don't appreciate what McNair was able to do. When comparing Cam Newton to a former player , former players of McNair say the strength and speed McNair possessed was elite and comparable to one of the best quarterbacks in the league today. McNair won Co-MVP with Peyton Manning in 2003 and was one of the most talented Dual threat quarterbacks before the 21st century. McNair was able to set a standard and he was efficient throughout his career. 82.8% QB rating, 60.1% completions, and 21 fourth quarter comebacks, those are very impressive numbers. He lost the Super Bowl in 2000 to the St.Louis Rams, but made history being another rare black Quarterback that was able to start at quarterback for an NFL team in the Super Bowl. The Hall of Fame is still a question people ask, but after passing away in 2008 and having time to reflect on what McNair was able to do coming from a SWAC school and working so hard it seems only right.
Donovan McNabb was drafted in 1999 by the Philadelphia Eagles #2 overall out of Syracuse. Then in 2001 the talented speedy and elusive Michael Vick was drafted #1 overall by the Atlanta Falcons out of Virginia Tech. Vick was something that nobody had ever seen at the Quarterback position.
Neither player was able to win the Heisman but the two franchise Quarterbacks were able to reach the NFC championship game in 2005 looking each other eye to eye. In hindsight the match up did not seem as iconic as it does eleven years after the progression of African American quarterbacks have made into 2016. The Philadelphia Eagles and Atlanta Falcons faced off in the NFC championship game where McNabb and the Eagles advanced to play the New England Patriots in the Super Bowl and Donovan McNabb became the third African American quarterback to start in the Super Bowl. McNabb and the Eagles were defeated 24-21 by the Patriots, McNabb had a sub par outing. He was able to throw for 357 yards and three touchdowns, but he also threw three interceptions. Pro Bowl History was made in the same year where Donovan McNabb, Dante Culpepper, and Mike Vick were the three quarterbacks elected for the NFC, first time ever there was a black trio in the AFC or NFC. They set a standard in the Mid 2000's to show the progression of the dual threat Quarterback and the ceiling they could reach.
The College Dominance Era
Vince Young at the University of Texas started a very powerful era for African American's in football. Young was the MVP of the 2006 Rose Bowl beating the  USC Trojans in the 2005 Rose Bowl. He rushed for 200 yards, passed for 267 yards, while scoring 3 touchdowns. Young scored the game winner with eight seconds left to beat the highly favored Reggie Bush led Trojans. He was drafted by the Titans in the 2006 NFL draft third overall. He won rookie of the year in 2007 and at the time he was the first ever black quarterback to win rookie of the year in the NFL.
Ohio State's quarterback Troy Smith named the 72nd Heisman winner in 2006. He won by a landslide. Appearing on 99% of the ballot, 801 first place votes(86.7%) 25-2 as a starter; pre-bowl numbers(67% completion%, 2507 passing yards, 30 touchdowns, and five interceptions).
In 2007 senior quarterback Chris Leak lead Florida to the national championship, beating Ohio State 41-14 in the BCS national championship. He threw for 213 yards going 25/36, with a touchdown. The Tebow era at Florida struck down during 2008 and 2009, then the "Superman" arrived Cameron Newton arrived in Auburn. Newton threw for 2,589 passing yards and 28 touchdowns for the Auburn Tigers. He won the 2010 SEC offensive, AP player of the year, and the Heisman by a landslide. He then led the Tigers to a victory over Oregon in the BCS title game, giving the Tigers their first national title since 1957. He was drafted #1 overall in the 2011 draft by the Carolina Panthers.
In 2011 Robert Griffin III came into the limelight and became the first player ever to win the Heisman from Baylor University. He completed 72% of his passes for 3,398 yards with 26 touchdowns. He holds 46 school records and was selected second overall in the 2012 NFL draft. Cam Newton became the second African American quarterback to win the NFL rookie of the year. Multiple records were broken by Newton, including most passing yards by a quarterback in first two games(854). Newton was the first rookie QB in NFL history to throw and run for ten touchdowns in a season. Newton has become the face of the NFL, after going to the Super Bowl last season and coming up short. Newton has a very long career ahead of him and he is only getting better year by year.
Robert Griffin III was the first NFL quarterback that was born in the 1990's. Griffin his first season did nothing but impress, 2012 was the golden year of RG3 before he tore his ACL in late December. He was able to win Offensive Rookie of the Year. He begin to decline in 2013 and eventually lost his job to Michigan State's Kirk Cousins. Two Heisman winners were able to find success, but only one was able to obtain the success, because of the way they were able to run and pass the ball. RG3 never learned how to slide, it is that simple he has taken alot of unnecessary hits which has also shortened his career.
The New School
Lamar Jackson and Deshaun Wason will go head to head, most people say this is the best Quarterback match up of the year and football fans are salivating at the opportunity to watch these two potential NFL players leading their teams in Death Valley tonight on ABC. Lamar Jackson is the Heisman favorite and has scored 25 touchdowns through four games. With Jackson at the helm this year the average margin of victory has been 41 points. Jackson is a perfectionist and that is another impressive characteristic in regards to an African American quarterback. He strives to master the playbook and working on his intangibles. When asked about his five touchdown game against FSU he gave himself a "D" grade because he threw an interception. Against Marshall he gave himself a "F" grade, when he threw for five touchdowns and 470 yards. Jackson said his completions speak for the way he grades himself(24/45). A failing grade in school is a 54.5%, Jackson has been getting high praise from current and former NFL players. He will continue to impress, but will face the toughest defense he has seen all year.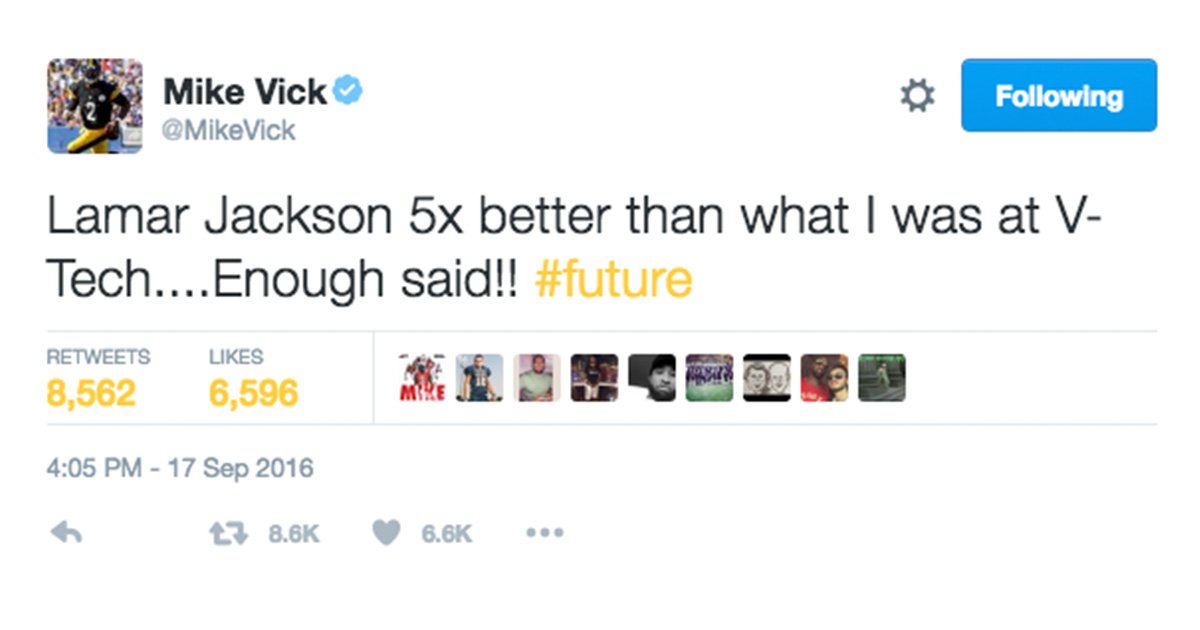 Deshaun Watson has been there and done that, Cam Newton is one of his biggest Role models and he likes to set him at a standard. Watson is a Heisman contender for the second season in a row and will welcome Jackson and the Cards to death valley to play him on his home turf. Watson has deadly speed and also a cannon of an arm! His versatility is not only elite, it has also become a norm in this new era of Quarterback we are starting to see develop. Nobody seems to have been as transcendent as Jackson since Newton or Young. It excites me as an African American football fan for two of the best quarterbacks in college football today will go head to head tonight on prime time television, which seemed like a far fetched dream 15 years ago when Steve McNair was only the second African American QB to play in the Super Bowl. Watson and Jackson will put on a show tonight, I believe Jackson's elite speed and intangibles will lead the Ville past Watson and the Tigers tonight 24-33.
-Cam Carter