The interest in the competitive HBCU divisions within the NCAA seems to not to be appreciated and taken for granted. With a lack of NBA players being drafted from HBCU's it seemed fitting to rank the top 5 must see HBCU players in the country.
#5 Devin Martin: The senior guard from Baltimore might come in as a surprise at number five, but Martin's ability to convert in open space is one reason why he is must see basketball in the MEAC especially this year. Martin made the second team all MEAC by College Sports Madness. He was projected to make third team all MEAC this year as he tries to lead Maryland-Eastern Shore to the MEAC Championship. Martin is automatic from the free throw line(80%).
#4 James Daniel: The junior guard from Hampton, Virginia averaged 17 points and three assists last year in 32 games for the Bison and is looking to build on his Sophomore campaign. Daniel stands at 5'11 and creates a shot for himself like no other player in the MEAC. He has a deadly jumpshot and has speed that defenders have no answers for. He dropped 25 points on Delaware State in the MEAC Tournament and there is a  feeling he will top his season high in points from last season.
#3 D'Shon Taylor: The junior guard from the Bahamas is 1/2 of the backcourt duo that Norfolk State posses with Jeff Short. The preseason second team all conference selection is one of the best scorers off the dribble in the Mid-Eastern Athletic Conference. Taylor is an Athletic guard that can stretch the floor with his relentless mid range and three point scoring. He averaged 13 points and five rebounds, while shooting 36% from the beyond the arc. Taylor can finish with contact and loves to throw down special dunks in the middle of the game to swing the momentum. Taylor is must see basketball as one half of that deadly back court Norfolk State will display this season!
 #2 Cedric Blossom: Cedric Blossom is MUST SEE basketball, the senior forward at Morgan State carries a 6'6 225 pound frame. Blossom is a relentless finisher and is an automatic scorer when his back is to the basket. Cedric Blossom plays both sides of the floor and that makes him so entertaining to watch. Blossom steals the ball with his long arms  and converts on the other end, usually his finish pertains to a dunk. First reported by the Baltimore Sun yesterday Blossom will be ineligible for the first five games of the season due to Academic issues. Rasean Simpson collectively missing the first six games is a big blow to this Morgan State team that needed an early season push to be a strong team come conference play. When Blossom is able to play he is a must see!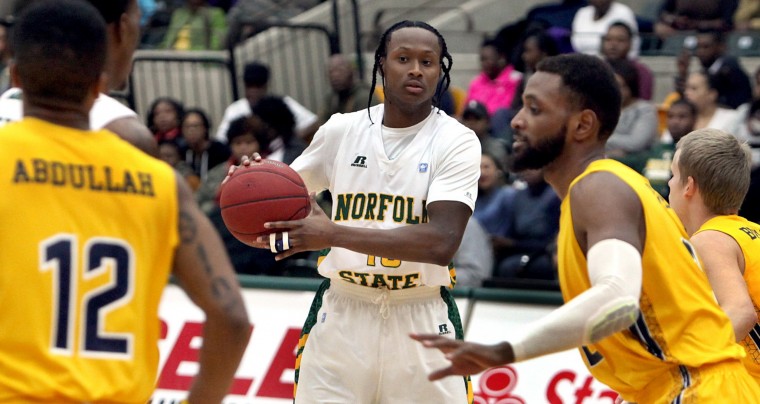 #1 Jeff Short: Jeff Short is the most exciting HBCU player currently sitting as the MEAC preseason Player of the Year. Short is an all around offensive threat where he averaged 19 points for Norfolk State last year and earn 1st team MEAC honors. Jeff Short is so reliable beyond the arc that it opens up plenty of shots for Short at the rimb when he drives relentlessly to the basket. His nifty layups and his sudden post moves are always entertaining to watch as well.
There are a lot of talented player at Historically Black College's and this year will be a year to remember as some of the must see player face each other head to head!
                                                                                                                                   *UMED at North Carolina Central -> December 5, 2015                                      *Norfolk State at North Carolina Central -> January 16, 2016                           *Howard University at Morgan State University -> January 30, 2016
–Cameron Carter