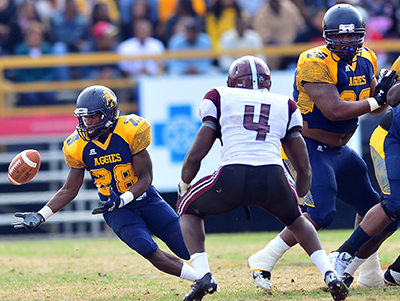 North Carolina Central and North Carolina A&T are set up for a season clinching game next Saturday in Durham, North Carolina. But before the Eagles and Aggies square off they will face the two worst teams in the MEAC conference this Saturday. The Eagles will play at home against the Howard Bison(1-8,1-5) and they look to set the tone this Saturday against the Bison for next Saturday. The Eagles made history this week when they were ranked 25th in the FCS Coaches poll. This is the first time in school history that the Eagles have been ranked. The Aggies hold the #9 spot and moved up one spot from last week.
But the Eagles have won seven straight games, only losing to Duke and #14 Western Michigan. Two FBS teams that should not stain the resume of the Eagles at all. The Eagles ranked 19th in the FBS in pass yards per completion(14 yards). They also sit fourth in the in red zone offense(27/29=.931). Red shirt junior Malcolm Bell threw for 223 yards and two touchdowns in the win at Delaware State.
The Aggies are allowing 240 pass yards a game, Bethune Cookman's Larry Brim jr threw for 376 yards, four touchdowns, and one interception against the Aggies a few weeks ago. Malcolm Bell has surpassed his completion of passing yards from all of last year with at least two games to go. Bell is averaging 198 yards passing right now and it is bound to go up against a unsatisfactory defense in the Bison.
As the #9 Aggies continue to improve on another impressive year after a gritty 30-20 win against SC State. Tarik Cohen on senior day against the Bulldogs rushing for 267 yards on 67 carries. The Bulldogs gave Cohen his toughest defensive challenge in the last two years. Cohen is ranked second in rushing yards in the FCS rankings with 1215 yards. North Carolina Central ranked #61 in rushing yards allowed in the FCS(157 yds p/g).
The Aggies have a great opportunity to sharpen up and play really well against Delaware State(0-9, 0-6) so that they might be able to move up in the FCS rankings if for example #5 James Madison looses to #11 Villanova this week. Neither team should overlook their opponents this week, but next Saturday will be the game for the marbles once these teams take care of their business on Saturday.